New Possible Brisbane Airlines Service Talks with Honourable Prime Minister of Tonga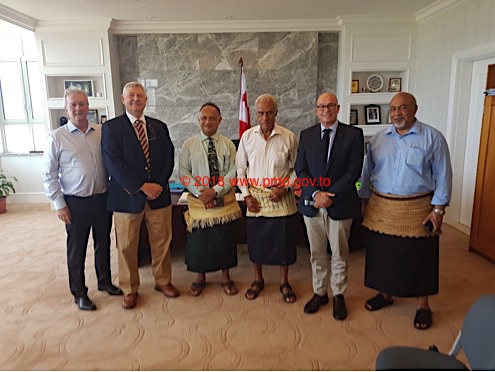 10 December 2018
The Prime Minister, Hon Samuela 'Akilisi Pohiva, met on Thursday (6 Dec 18) with a delegation from Nauru Airlines led by its Chairman, Mr. Trevor Jensen, and the Managing Director of Real Tonga, Mr. Tevita Palu, to discuss the possibility of setting up a partnership to provide an airline service between Tonga and Brisbane, Australia.
The Hon Prime Minister said, "I met with representatives of the Tonga community in Brisbane when I transited there on my way to Papua New Guinea for APEC in November and they informed me that none of the regional carriers was interested in providing a direct airline service between Tonga and Brisbane but that Nauru Airlines was interested in providing such a service in partnership with Real Tonga and the Government of Tonga. So I agreed that I would meet with them for preliminary discussions and I must say that our discussions today went very well".
Mr. Jensen said, "After our discussions with the Tongan community in Brisbane earlier this year a Nauru Airlines team visited Nuku'alofa for the 69th meeting of the Association of South Pacific Airline (ASPA) in October during which we held separate discussions with Real Tonga and with the Deputy Prime Minister, Hon Semisi Sika. We have taken the opportunity to visit again this time because we like what we have seen and are keen to pursue this partnership further",
Mr. Tevita Palu said, "Real Tonga is really happy to pursue this partnership with Nauru Airlines and the Tonga Government which can only benefit the Tongan people and of course our economy. And although there is still a lot of areas to be discussed and numbers to be crunched, I am in total support of this joint venture."
Also participating in the meeting was the Minister for Trade, Hon Tevita Tu'i Uata, the CEO of Nauru Airlines, Mr. Peter Sheehan and Chief Commercial Officer, Mr. Richard Miller.
Nauru Airlines is wholly owned by the Government of Nauru, and currently flies from Nauru to: Brisbane (via Honiara), Nadi, Tarawa (Kiribati), Majuro (Marshall Islands), Pohnpei (Federated States of Micronesia) and Guam. It also provides a freight and charter service. It currently owns a fleet 5 Boeing 737 -300 aircrafts and its principal place of business in Brisbane, Australia.
There is approximately 6,000 Tongans living in Brisbane and approximately 500 to 600 Tongans travel annually to agricultural areas such as Mundubbera and Bowen in Queensland, under the Seasonal Workers Program. According to Mr. Jensen, the Brisbane – Tonga service would be an opportunity to boost the number of Australian tourists to Tonga.
The meeting agreed that Nauru Airlines will conduct a test of the market whilstdiscussions will continue between the Government and Real Tonga about the type ofpartnership they will bring to the table.
ENDS-
Issued by the: The Prime Minister's Office, P.O. Box 62, Nuku'alofa, Tonga. Tel: (676) 24 644 Fax: (676) 23 888; For media enquiries- Email: pressoffice@pmo.gov.to Website: www.pmo.gov.to