Her Royal Highness Princess Angelika Lātūfuipeka Tuku'aho hands over AUD$463,679.43 (about TOP$760,000) from the official Fakalukutonga Fundraising in Australia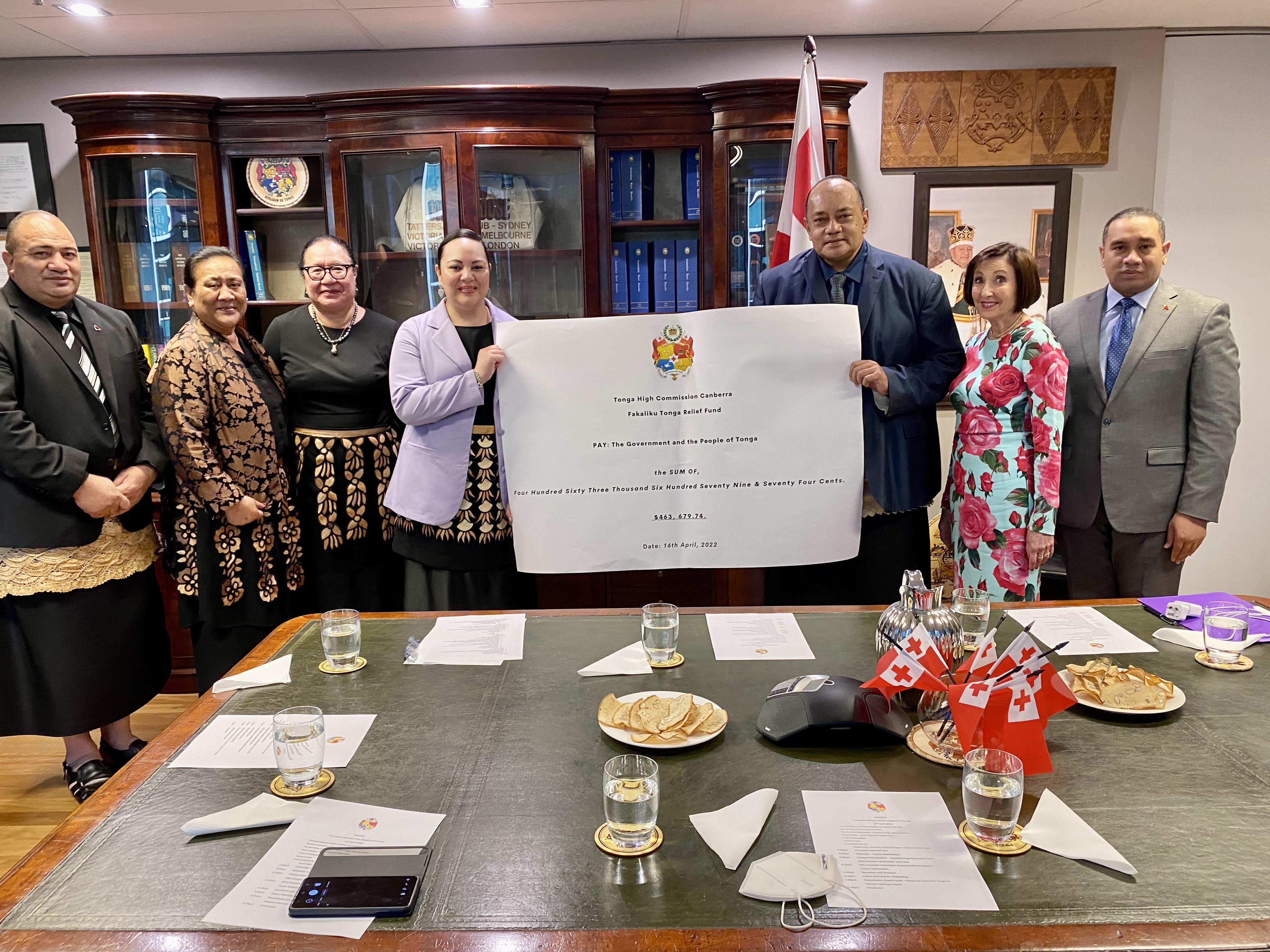 28 April 2022
On the 16th of April 2022, to mark the three month anniversary of the Hunga Tonga-Hunga Ha'apai Volcanic Eruption and subsequent Tsunami, Her Royal Highness Princess Angelika Lātūfuipeka Tuku'aho, the High Commissioner of Tonga to Australia presented a donation of  AUD $463,679.43 or approximately TOP 760,000 Pa'anga in funds raised through the official Fakalikutonga Recovery Fund to the Honourable Prime Minister Siaosi 'Ofakivahafolau Sovaleni (Hu'akavameiliku) during a Recovery Efforts report and ceremony at the Consulate General of Tonga in Sydney in the presence of Honourable Fekitamoeloa Utoikamanu, the Minister for Foreign Affairs, Ilaisipa Alipate, Chief of Protocol, Louise S.R. Waterhouse – Honorary Consul General,  Curtis Tu'ihangingie and Tasimani Telefoni, from the Tonga High Commission, Canberra.
Her Royal Highness said: "The FakalikuTonga Fund is made up of generous donations from so many sources who were all concerned to help Tonga". These include High Commissions and Embassies, regional and local Australian governments, local Tongan and other communities, churches, the business communities, and a number of school fund-raising ventures – sourced through the efforts of the High Commission in Canberra with the support of the Consulate General in Sydney and the Pili-e-tauhala Recovery Committee. Her Royal Highness also advised she hoped the FakalikuTonga Fund will continue to receive further donations. Louise Waterhouse also highlighted the generosity of many, many donations in kind: "We are sending over $A2.5m in much-needed items sourced in Australia and sent to Tonga through the generous support of Swire Shipping".
The Hon Prime Minister was delighted with the donation, and he expected that, as the amount was significant, it would be enough to fund an important recovery project in one of the worst hit areas of Tonga. He advised his vision was to eventually see a completed project funded by this FakalikuTonga donation with a plaque to acknowledge the support – and so through transparency donors could see their money making a real difference in Tonga.
The Honourable Prime Minister asked Her Royal Highness to kindly convey His Majesty's Government, the people of Tonga and his Cabinet's gratitude and appreciation to all charitable donors for their generous support for Tonga's rebuilding for the future.
-ENDS-