"Tonga hosts consultation on the 1st Draft Implementation Plan for the Pacific's 2050 Strategy for the Blue Pacific Continent"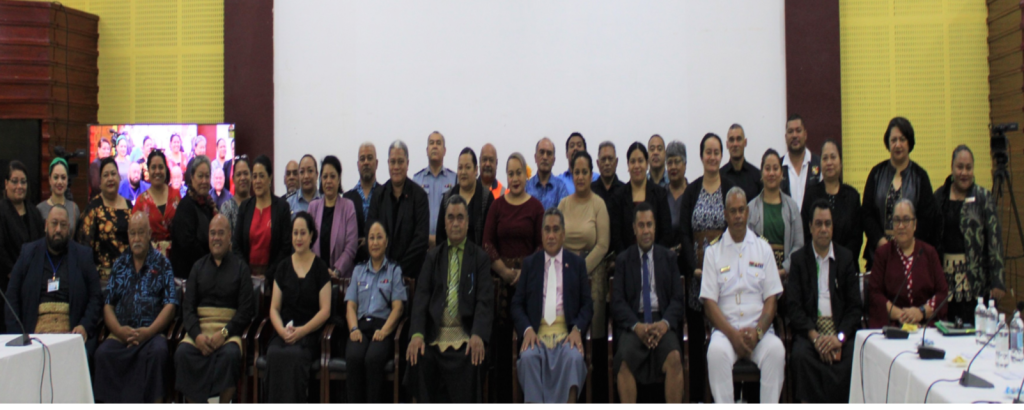 31 August 2023
The Prime Minister's Office and the Pacific Islands Forum Secretariat, co-hosted on 30 August 2023, a stakeholders consultation at the Fa'onelua Convention Centre, on the draft implementation plan for the region's 2050 Strategy.
Chief Executives, Directors and Senior Officials from across the Government Ministries, Agencies and Public Enterprises attended the consultation. Members of the Civil Societies Organizations, Private Sectors, Tertiary Institutions and the Media were also represented during the thematic Areas consultation.
Chief Secretary and Secretary to Cabinet, Mr Paula Ma'u opened the workshop with spiritual guidance led by the Rev. Samisoni Tuiaki, of the Free Wesleyan Church of Fasi-moe-Afi. CEOs co-chaired the discussions of the draft plan.
The Forum Secretariat's Team Leader and Strategic Planning and Coordination Adviser, for the 2050 Implementation Plan, Adviser Viliame Bovoro is in Nuku'alofa to lead the consultation process and gather Tonga's feedback.
The draft Plan is the first of three phased-in implementation plans, that will be developed by the Forum Member Countries, the Council of Regional Organization of the Pacific (CROP) Agencies, the Civil Societies Organizations (CSOs), Private Sector Organizations and Partners Agencies, mirroring the national priorities of every Forum Member, over the three iteration of the plan from 2030, 2040, which will continue to be reviewed, towards the 2050 target.
It is based on the Pacific Leaders' decisions to implement the region's aspirations and collective actions for the year 2020.
Through the 2050 Strategy which was launched in 2022, the region's focus is on the development of seven thematic areas during every iteration of the plan, namely, political leadership and regionalism, people centred development, peace and security, climate change and natural disasters, oceans and environment as well as technology and connectivity.
The first Implementation Plan (2024-2030) is currently being circulated to Forum Members for feedback prior to being tabled in the next Pacific Islands Forum Leaders Meetings in November this year in the Cook Islands.
This week Tonga, Papua New Guinea, Vanuatu and RMI are having their consultation process, while other Forum Members, FSM, Kiribati, Niue, Nauru and Fiji are scheduled for early September.
-ENDS-