"Hon Prime Minister Hosts Meeting and Prayer Service with Staff at Beginning of New Year"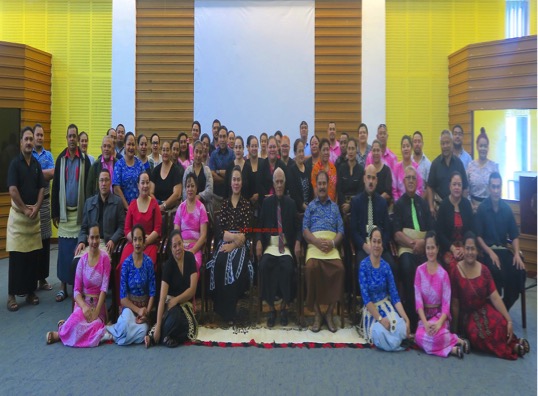 (8 January 2019)
The Prime Minister, Hon Samuela 'Akilisi Pohiva hosted a meeting and prayer service with the staff of the Prime Minister's Office, the Ministry of Foreign Affairs and Trade and the Public Service Commission, at the Fa'onelua Convention Centre on Monday morning (7 January 19) to kick off the start of the new work year.
The meeting began with the prayer service led by the CEO of the Public Service Commission, Dr. Lia Maka, who shared a homily based on Matthew 6:24, "No man can serve two masters: for either he will hate the one, and love the other; or else he will hold to the one, and despise the other. Ye cannot serve God and mammon". This was followed by a welcoming speech made by Mr. Sinilau Kolokihakaufisi, one of the Commissioners of the Public Service Commission.
In his address to the staff the Hon Prime Minister reminded them of the 10 themes of the National Prayer Week that had been observed the previous week, the overall purpose of which was to seek God's help and guidance for the work the country was to undertake in 2019. He said, "I look forward to working together with all of you to implement the Government's plans for reform in 2019. The Government had spent money on scholarships to send you overseas for tertiary education so that you can come home and carry out the work of Government. But I have found that some returning scholars are not prepared to carry out the reforms that had been set in place. For me it's a 'mindset' problem and I am glad that the Public Service Commission is addressing this problem through in-house training for civil servants".
Following the Hon Prime Minister's statement, a vote of thanks was delivered by the Mr. Siale 'Eti Teumohenga, on behalf of the Acting Chief Secretary and Secretary to Cabinet, followed by the closing prayer and the blessing of the morning tea delivered by Mr. Leonaitasi Kuluni Motu'apuaka, representing the CEO of the Ministry of Foreign Affairs and Trade.
During morning tea the Hon Prime Minister also made another statement in which he asked the staff of the three Government portfolios under his authority not to believe the rumours doing the rounds in the social media that the Prime Minister was trying to undermine and or revoke His Majesty's Royal Prerogatives. He closed with some fatherly advice to his staff saying, "I have come to realize that there are a lot of well-educated but unmarried women in senior positions in the Prime Minister's Office, PSC and the Ministry for Foreign Affairs. I urge you all, 'Please look for a husband in 2019 as a matter of priority!'"
Issued by the: Prime Minister's Office, P.O. Box 62, Nuku'alofa, Tonga. Tel: (676) 24 644 Fax: (676) 23 888; For media enquires – Email: pressroom@pmo.gov.to Website: www.pmo.gov.to