Handover ceremony of the water tanks donated by the People's Republic of China (PRC) to Tonga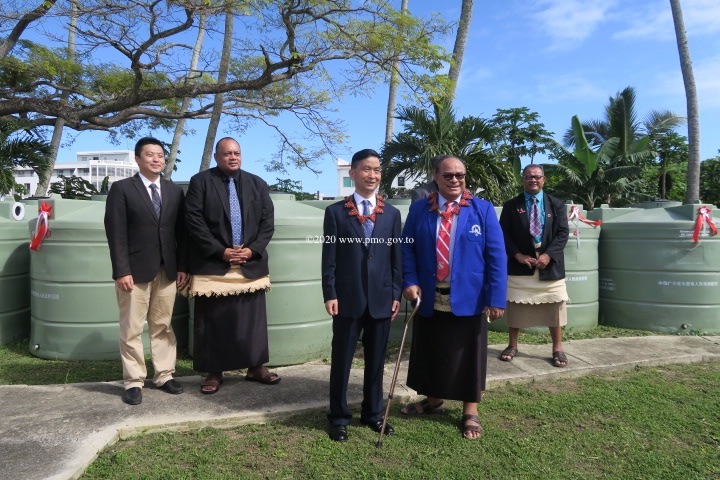 August 26 2020
The Hon. Prime Minister Rev. Dr. Pohiva Tu'i'onetoa and the Ambassador of the People's Republic of China to Tonga, HE Mr. Cao Xiaolin signed the Hand-over certificate of 100 water tanks donated by the Dongguan City, Guangdong Province, People's Republic of China to Tongan families through the Government of Tonga at the Fa'onelua Convention Centre on Tuesday 25 August, 2020.
The Ambassador stated that the tanks were made in Tonga and will be used by Tongan families to assist Tongan families to drink clean water and lead a more comfortable life. He mentioned that the water tanks are only part of many donations from Dongguan city and more donations will arrive for the Tongan Government soon.
Over the past years Dongguan city assist Tonga in various projects including the sidewalks in Tongatapu, solar street lights, farm tractors, water tanks, medical supplies and more. These donations have benefited many Tongan families and enhanced the understanding and friendship between the two countries.
PRC has assisted Tonga this year including medical supplies and medical technologies so as cash grants for the capacity building in health; sending of agricultural experts team to Tongatapu, 'Eua and Vava'u to assist Tongan families raise pigs, grow vegetables, mushrooms, tomatoes and other vegetables to improve their standard of living.
PRC funded many community projects to empower the people in need. The Ambassador assured that PRC will continue to provide assistance in its capacity to Tonga to improve the well-being of the Tongan people.
The ceremony was attended by Cabinet Ministers, Government CEO's and guests.