"Government of Tonga signed with the Government of Dongguan Municipality for the handover of 50 solar streetlights"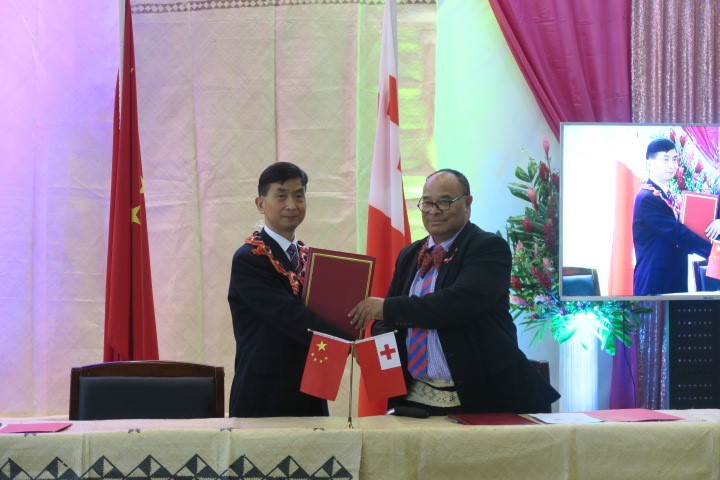 The Government of Tonga and the People's Government of Dongguan Municipality conducted a short ceremony to symbolize the hand-over of fifty (50) solar street lights, with the aim of promoting the livelihood of the Tongan people contributing to the environmental and social development in the Kingdom.
.
His Excellency Mr. Cao Xiaolin, the Chinese Ambassador to Tonga, represented the People's Government of Dongguan Municipality, signed with Tonga's Prime Minister, Honourable Rev. Dr. Pohiva Tu'i'onetoa, the hand-over certificate on 28 October, 2020 at the Fa'onelua Convention Centre. The event was conducted in the presence of the Minister of Finance, Hon. Tevita Lavemaau and the Minister of Infrastructure and Tourism, Hon. 'Akosita Lavulavu, including Government Heads of Departments and officials and members of the mainstream Tongan media.
The solar streetlights project was initiated by the Chinese Dongguan City two years ago. During that time, 150 pieces of solar street lights have been donated to Tonga aimed for the remote outer islands and the local communities.
The latest donation of the solar streetlights which arrived on 26 October, 2020 will be coordinated between the Prime Minister's Office and the Chinese Embassy, with the Dongguan Government providing technical guidance on its installation.
The assistance from the People's Republic of China will make a difference in providing equitable access for those remote areas not accessible by Tonga's electricity power network, boosting the safety and the level of security of its people.
The Dongguang Municipality and the Tongan Government have shared many years of cordial relations. The Dongguan Municipality have provided numerous assistance including two batches of PPE donations during the COVID-19 pandemic, several tractors and fishing boats, water tanks, computers and medical equipment. Other major projects included the Sidewalk Project which is funded by the Chinese Dongguan City and the Guangdong Province, and due to be completed by the end of the year.