Marking of the International Women's Day & Launching of Tonga National Service Delivery Protocol, 2021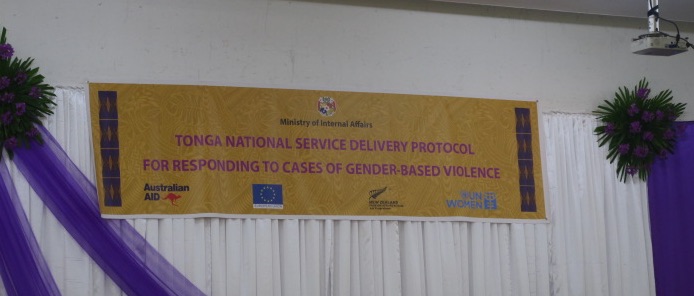 8 March 2021
The Hon. Prime Minister Rev. Dr. Pohiva Tu'i'onetoa marked the 2021 International Women's Day and the launching of Tonga National Service Delivery Protocol on Monday 8March 2021 at the Fa'onelua Convention Centre.
This year's International Women's Day theme – Women in leadership: Achieving an equal future in a COVID-19 world" celebrates the tremendous efforts by women and girls around the world in shaping a more equal future and recovery from the COVID-19 pandemic.
The Tonga National Service Delivery Protocol for Responding to cases of gender-based violence is the Kingdom's first ever national protocol that coordinates multi-sectoral responses to gender-based violence.
This development Protocol is led by the Ministry of Internal Affairs with funding from the Families Free of Violence programme through the Australian Government, and technical support from UN Women Fiji MCO through the Pacific Partnership to End Violence Against Women and Girls programme, funded primarily by the European Union, and the Governments of Australia and New Zealand, and UN Women.