"Tonga and Japan signed for provision of a tugboat for Ports Authority under Japan's Grant Aid Assistance"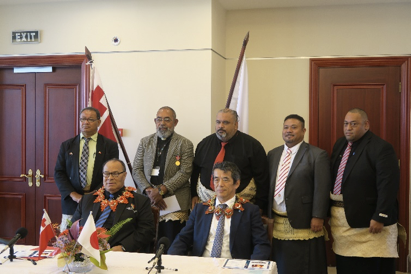 6 September 2021
The Hon Prime Minister, Rev. Dr. Pohiva Tu'i'onetoa also Minister for Public Enterprises signed agreement with the Ambassador of Japan to Tonga, Mr. Kensaku Munenaga, at the Prime Minister's Office, on Friday 3rd September, 2021.
The signing ceremony is for the provision of a tugboat under Japan's Grant Aid Assistance for Social and Economic Development.
The Hon Rev. Dr. Pohiva Tu'ionetoa extended the Government of Tonga's appreciation for the Government of Japan, for approving the request for a tugboat for Tonga.
"The Government of Japan recognizes the gravity and the urgent need for a new Tugboat to be utilized in the Port of Nuku'alofa, for a safer, reliable and continuous tugboat service, and in line with the Tonga Strategic Development Framework II."
He stated that the tugboat as requested is needed by Ports Authority to perform its duties and to comply with the legal requirements, outlines in the Ports Authority Acts and with international standards. He mentioned that Tonga's preparedness and response efforts to COVID-19 could also be affected, as some medical supplies, are also shipped by sea.
"We are grateful for the people of Japan, and your continued valuable assistance, throughout the years, and looks forward to future cooperative and productive relations."
His Excellency, Mr.Kensaku Munenaga said that the assistance is under Japan's Non-Grant Aid scheme (NPGA) of approximately US$ 10 million and this is the 9th round of NPGA for Tonga since 2009, when the embassy opened. The total amount of the past 8 NPGA was USD$17 million.
Japan's most important vision for the region is the "Free Open Indo-Pacific, which constitutes one of the main reasons for Japan's strong and significant commitment expressed by today's grant.
"The Ministry of Public Enterprises and Ports Authority Tonga(PAT), which will be responsible for this tugboat, have demonstrated their competence in operating and maintaining a tugboat through their care for the "Hifofua", which was also donated by Japan in 1994. I am sure that the Ministry and PAT will continue to demonstrate their capability of good management and will surely strengthen Tonga's economy for another 27 years or more by this new tugboat." Japan has assisted Tonga in different forms including grants for infrastructure, roads, schools, village water supplies, the Vaiola Hospital, the Fua'amotu International Airport Terminal, the Taufa'ahau Tupou IV Domestic Wharf, the provision of the MV 'Otuanga'ofa, medical supplies and Covid vaccines assistance, provisions of solar farms and wind energy generation, technical cooperation, donor funding assistances, and soon will be the Road Construction Asphalt Trucks, which will improve people's livelihood.