PRC donates tractors and educational materials to Tonga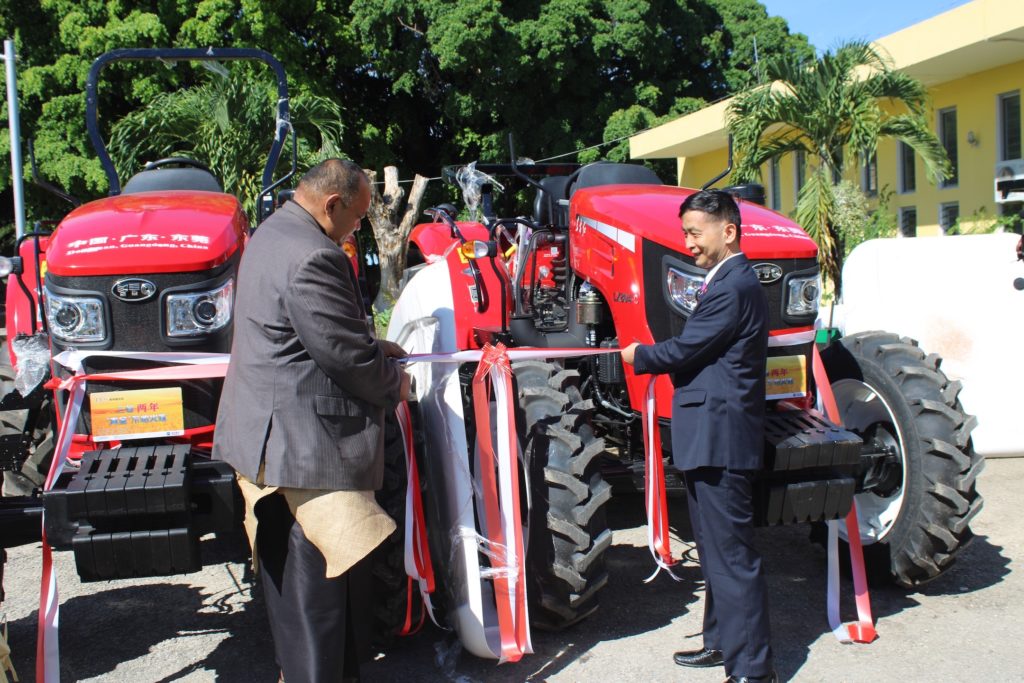 13 January 2022
Eight (8) farm tractors with disc plough and educational materials including computers, laptop and schoolbags were donated from the People's Republic of China's Dongguan City, Guangdong Province, was handed over to the Kingdom of Tonga at the Fa'onelua Convention Centre, on Wednesday 12th January, 2022.
The official hand-over ceremony was signed by the PRC Ambassador to Tonga, His Excellency. Mr.Cao Xiaolin, and handed over to Hon. Hu'akavameiliku, the Prime Minister of Tonga.
"This is the first batch of grant-aid assistance from China to the new Tongan Government at the beginning of 2022," according to Ambassador Cao.
Over the past two years over 100 grant-aid projects, big and small have been donated by PRC to Tonga from agriculture, fisheries, education, health, environment protection and climate change and others. They also sponsored individual farmers to encourage the growing of more agricultural products, such as yams and watermelons for exporting to overseas market.
The ambassador also outlined China aid projects to be implemented this year including the royal military band facility project expected to be completed in the first half of this year; Chinese agricultural technical cooperation with their innovative products; Custom inspection equipment from China will be installed and launched, if border opens; wind power farm project; Tonga High School complex project; water tanks; farm tractors, computers, computers, solar power street lights and police vehicles; Government Scholarships and more training opportunities.
"All these cooperation areas are fully aligned with the priority development goals of Tonga addressed by His Majesty in his opening address to the Parliament, this year."
Prime Minister, Hon. Hu'akavameiliku received the donated tractors and educational materials with heartfelt appreciation thanking the Chinese Embassy for the support with the numerous grant-aid projects.
"The gifted materials will assist and enhance the development of Tonga's human and land resources and generate further economic and social wealth," said the Hon. Hu'akavameiliku.
"We are pleased with the outcome of the telephone audience of His Majesty, The King and the Chinese President was most fruitful," he said, adding that water tanks were provided for His Majesty's people for clean water and improvement of their resilience in response to cyclone risk.
Furthermore, he stated that Tonga is looking forward to advancing the cooperation under the Belt and Road Initiative, this year.
The official hand-over ceremony was also attended by Cabinet Ministers, PRC Embassy staff and Government officials.