"Pacific Leaders welcomed as Prime Minister calls for better access to climate funding"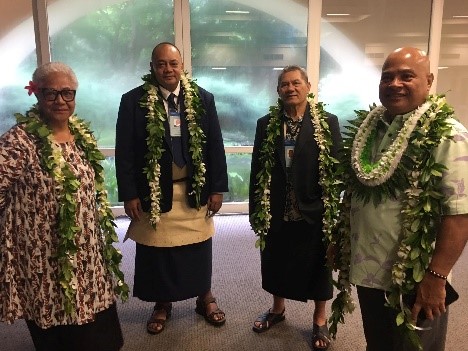 14 September 2022
Honolulu, HAWAII – The 12th Pacific Island Conference of Leaders (PICL) officially opened today, 12 September 2022, with a traditional Hawaiian Kava ceremony for Pacific Island Leaders and their representatives here at the East West Centre in Honolulu.
The Honourable Prime Minister, the Hon Hu'akavameiliku, was among Leaders from the Cook Islands, Federated States of Micronesia, Fiji, French Polynesia, Guam, Hawaii, Republic of the Marshal Islands, Nauru, Niue, Commonwealth of the Northern Marian Islands, Republic of Palau, Samoa, Solomon Islands and Tuvalu. The Governor of American Samoa joined via zoom link.
The opening was followed by the Leaders Dialogue with Asia- Pacific Non-PICL Member Countries, where panelists provided an overview of each of their country's priority areas, including climate change; human and sustainable development; maritime security; Covid-19 vaccine, budget support, climate financing; and peace and security.
The Hon Prime Minister, in his response to the panelists, stated that with the current slow process, there should be a more creative way to facilitate access to climate fund and support the setup of a regional Fund for Pacific.
The Tonga delegation joined the Pacific Island Conference of Leaders (PICL) Working Group Inaugural meeting, where the Federated States of Micronesia was nominated as Chair.
The Honourable Prime Minister also had bilateral meetings with the Office of the Pacific Australia's Department of Foreign Affairs and Trade and Pacific Aviation Safety Office (PASO). He also met the President of the East West Center, Suzanne Vares-Lum and Kuhio Lewis, CEO of Council for Native Hawaiian Advancement (NCHA). He conveyed Tonga's appreciation to the CNHA for donating USD$147,000.