Kingdom of Tonga Celebrates Major Milestone Towards Renewable Energy Target with Commissioning of Vava'u island 300kW Solar System and BESS (Tonga Renewable Energy Project)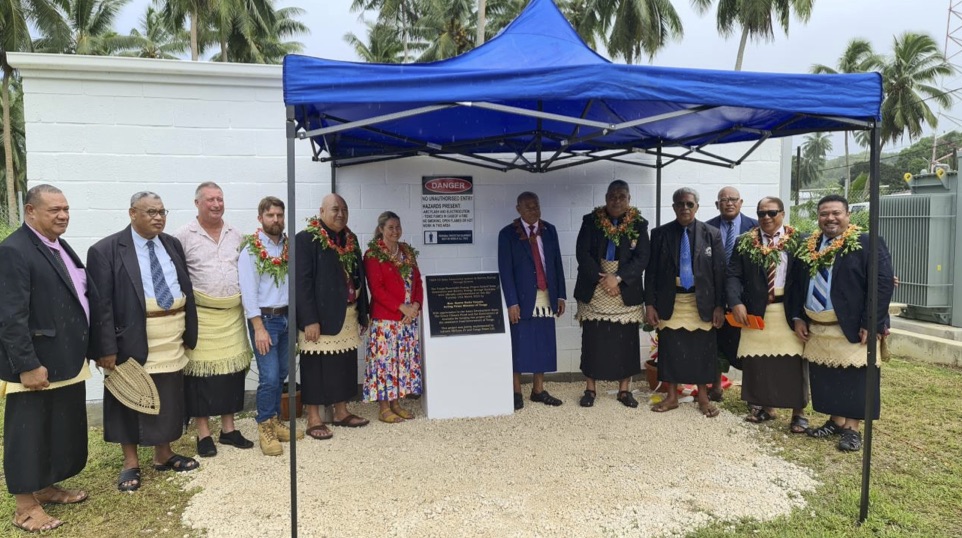 14 March 2023
Kameli, Vava'u Tonga (14th March 2023) — Tonga Power Limited (TPL) has commissioned a new solar and battery energy storage system in Vava'u, Tonga, with the financial support of the Green Climate Fund (GCF), Asian Development Bank, Government of Australia and inkind contribution from Government of Tonga and Tonga Power Limited. The system includes a 300kW solar plant and a 2 Mega-watt hour battery energy storage system, which will enable TPL to integrate renewable energy into its electricity grid and provide reliable power to customers.
The Acting Prime Minister Honorable Samiu Kiuta Vaipulu, was present as the guest of honour at the event. Distinguished guests for the event also included Her Excellency Australian High Commissioner to Tonga – Ms. Rachael Moore, Chief Church Minister of the Free Wesleyan Church to Vava'u – Rev. Liuaki Fungalei, Lord Fakatulolo – Governor of Vava'u and Mr. Henry Sommerville – representative from the project contractor, Infratec NetCon JV.
Her Excellency Ms. Rachael Moore highlighted the importance of collaborations between Tonga and Australia towards achieving sustainable sources of electricity through renewable energy and energy resilience through support of network upgrade projects. She applauded Tonga for its aspirational targets and the delivery of these projects during difficult times.
This project is the 3rd component, lot 1, of the Tonga Renewable Energy project (TREP) whereby we've witnessed completion of the 1st and 2nd component October 25th 2022 with the successful completion of Load Shifting and Grid Stability Battery Energy storage systems in Tongatapu as well as completion of Éua Solar and BESS on the 02nd March 2023.
The solar and battery energy storage system was constructed by Infratec, a leading renewable energy company, with the support of local contractors JH Electrical and Clay Energy. Despite the challenges posed by the COVID-19 pandemic and the countrywide lockdown, the project was completed successfully, thanks to the dedication and hard work of the TPL team and its partners.
The integration of the solar and battery energy storage system with the existing diesel generators will be a major challenge, but TPL is committed to ensuring that the system operates effectively and delivers real benefits to its customers. With the completion of the new system, along with the existing solar plant installed through the Outer Islands Renewable Energy Project, this will help in assisting in managing the complexity of Renewable energy technology as well as progressing our renewable energy targets.
Government of Australia alongside Asian Development Bank has contributed to similar renewable energy projects as part of the Outer Island Renewable Energy projects (OIREP) which is progressing in network upgrades to Vava'u Island, Setting up a new micro-grid network to Niuatoputapu and microgrid rehabilitation to outer islands of Ha'apai (Ha'ano, Uiha, Ha'afeva, Nomuka). The last component of the Tonga Renewable Energy Project, TREP 03 Lot 02 will progress over the next year to outer islands of Ha'apai and Niuafoóu install solar generation and storage capacity to these islands aswell as connection to all homes in these islands. These islands include Óua, Kotu, Tungua, Moúángaone aswell as the island of Niuafo'ou. Also Project savings are being used to install similar systems in the Vava'u outer islands of Falevai, Hunga, Ofu, Ótea.
The Green Climate Fund, the Asian Development Bank and Australia remain committed to supporting Tonga's efforts to achieve a sustainable and resilient energy system, and will continue to collaborate with Tonga Power Limited and its partners to make this goal a reality.
ENDS