GROUND-BREAKING CEREMONY – TONGA NEW PARLIAMENT BUILDING LAKALAKAIMONŪ ESTATE, TALANGAHOLO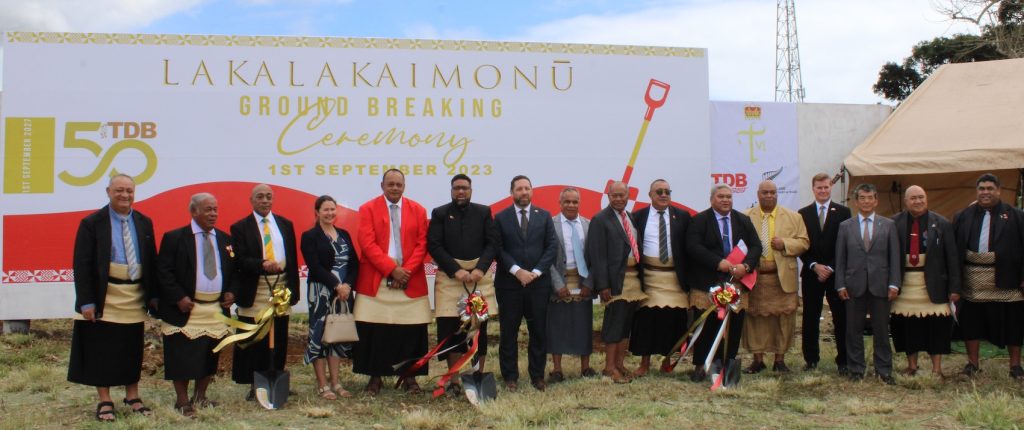 1 September 2023
I WISH TO ACKNOWLEDGE THE PRESENCE OF GOD IN OUR MIDST.
HIS MAJESTY KING TUPOU VI
HER MAJESTY QUEEN NANASIPAU'U
CROWN PRINCE TUPOUTO'A 'ULUKALALA AND CROWN PRINCESS SINAITAKALA
PRINCE TUNGI, PRINCE KALANIUVALU AND THE NOBLES OF THE REALM
SPEAKER OF PARLIAMENT, LORD FAKAFANUA
MINISTERS OF CABINET, AND MEMBERS OF PARLIAMENT
THE PRESIDENT OF THE FREE WESLYAN CHURCH OF TONGA AND THE CLERGIES
MEMBERS OF THE DIPLOMATIC CORPS
DISTINGUISHED GUESTS,
LADIES AND GENTLEMEN
I BEGIN BY ACKNOWLEDGING THE PRESENCE OF THEIR MAJESTIES, WHO ARE OUR ESTEEMED LEADERS, BUT ALSO EPITOMIZE THE SPIRIT OF NATIONAL UNITY THAT IS CRUCIAL TO OUR PROGRESS.
I WISH TO RECOGNIZE THE TIRELESS EFFORTS OF THE LORD SPEAKER, Minister of Lands Lord Tu'iafitu, Hon Tiofilusi Tiueti, DPM, and CABINET MINISTERS, WHO HAVE WORKED DILIGENTLY IN THE SERVICE TO OUR NATION, AND IN THIS IMPORTANT PROJECT.
FURTHERMORE, I WOULD LIKE TO EXPRESS MY APPRECIATION TO MR PENISIMANI VEA, THE CHAIRMAN OF THE BOARD OF THE TONGA DEVELOPMENT BANK, FOR THE BOARD'S STEADFAST PARTNERSHIP AND INSIGHTFUL STRATEGY. THEIR DEVOTED COMMITMENT TOWARDS OUR SHARED ASPIRATIONS HAS PLAYED A CRUCIAL ROLE IN LEADING US TO THIS SIGNIFICANT MILESTONE.
I WOULD ALSO LIKE TO EXTEND MY GRATITUDE TO THE HIGH COMMISSIONERS OF THE GOVERNMENTS OF AUSTRALIA AND NEW ZEALAND for supporting the rebuilding of this key institution. Thank you to THE MEMBERS OF THE DIPLOMATIC CORPS, WHOSE PARTNERSHIP HAS BEEN INDISPENSABLE IN CONTRIBUTING TO THE PROGRESS OF TONGA. YOUR SUPPORT AND COLLABORATION ARE VITAL FOR OUR NATION'S GROWTH AND PROSPERITY.
PRESENTLY, WE STAND IN SOLIDARITY WITH A SHARED VISION FOR THE FUTURE OF OUR NATION. THE COMPREHENSIVE VISION OF OUR GOVERNMENT ENCOMPASSES NOT ONLY ECONOMIC GROWTH BUT ALSO SOCIAL EQUALITY, ENVIRONMENTAL SUSTAINABILITY, AND CLIMATE RESILIENCE. THE GROUNDBREAKING CEREMONY IS A PIVOTAL MOMENT IN BRINGING THIS VISION TO LIFE.
THE ROLE OF INFRASTRUCTURE IN THE PROGRESS OF A THRIVING NATION CANNOT BE OVERSTATED. IT SERVES AS THE BACKBONE THAT SUPPORTS OUR PROGRESS. THE PARLIAMENT COMPLEX, WHICH WE ARE INAUGURATING TODAY, SERVES AS NOT ONLY A LEGISLATIVE CENTER BUT ALSO A SYMBOL OF GOVERNANCE AND PUBLIC SERVICE. THIS SIGNIFIES OUR COMMITMENT TO STRENGTHENING THIS CRITICAL COMPONENT AND ENSURING A STEADY FOUNDATION FOR THE ADVANCEMENT OF OUR NATION.
THERE IS INCREASING ACCEPTANCE OF THE FACT THAT DEMOCRACY AND GOOD GOVERNANCE ARE NOT A LUXURY, BUT A FUNDAMENTAL REQUIREMENT TO ACHIEVE SUSTAINABLE DEVELOPMENT. IN THE PERFORMANCE OF THEIR KEY FUNCTIONS OF LEGISLATION, REPRESENTATION AND OVERSIGHT, PARLIAMENTS CAN ACTIVELY ENGAGE IN THE DEVELOPMENT AND IMPLEMENTATION OF LAWS, POLICIES AND PRACTICES THAT PROMOTE DEMOCRACY AND GOOD GOVERNANCE.
GOVERNMENT'S THEMATIC AREAS RECOGNISED BUILDING QUALITY AND EASY ACCESS TO PUBLIC SERVICES, AND ALSO IMPROVING QUALITY AND ACCESS TO PUBLIC INFRASTRUCTURE. WITH THIS NEW PARLIAMENT BUILDING, I AM CONVINCED THAT QUALITY SERVICES WILL BE DELIVERED AND EFFECTIVE ACCESS BY THE PUBLIC WILL BE ACCOMMODATED.  It will also help mitigate the traffic challenges that we have in the CBD.
PARTNERSHIP AND COOPERATION HAVE BEEN AT THE HEART OF OUR GOVERNMENT'S APPROACH. WE HAVE FOSTERED COLLABORATIONS AT MULTIPLE LEVELS, INCLUDING WITH LOCAL BODIES, PRIVATE SECTORS, AND INTERNATIONAL ORGANIZATIONS. IN PARTICULAR, THE JOINT DEVELOPMENT AGREEMENT BY THE TONGA DEVELOPMENT BANK STANDS AS A MODEL OF EFFECTIVE PUBLIC-PRIVATE COLLABORATION.
I WOULD LIKE TO TAKE A MOMENT TO ACKNOWLEDGE THE INVALUABLE ROLE OF THE TONGA DEVELOPMENT BANK AS A DEVELOPMENT PARTNER IN THIS PROJECT AND ITS BROADER CONTRIBUTIONS TO THE KINGDOM. THE BANK HAS GONE ABOVE AND BEYOND ITS TRADITIONAL ROLE AS A FINANCIAL INSTITUTION, BECOMING AN INTEGRAL PART OF OUR HOLISTIC DEVELOPMENT PLAN FOR TONGA.
THE ECONOMIC IMPACTS OF THIS PROJECT ARE FAR-REACHING. WE EXPECT JOB CREATION, BUSINESS OPPORTUNITIES, AND INCREASED GOVERNMENTAL EFFICIENCY AS RIPPLE EFFECTS OF THIS ENDEAVOR. THESE BENEFITS ALIGN WITH OUR BROADER ECONOMIC STRATEGIES, WHICH AIM FOR DIVERSIFICATION AND SUSTAINABILITY.
HOWEVER, THIS PROJECT IS NOT SOLELY ABOUT ECONOMIC GAINS. IT ALSO HOLDS IMMENSE SOCIAL BENEFITS FOR OUR CITIZENS. IT GOES BEYOND BRICKS AND MORTAR; IT IS ABOUT IMPROVING THE QUALITY OF LIFE FOR EVERY TONGAN.
IN CLOSING, I WANT TO REITERATE OUR GOVERNMENT'S UNWAVERING COMMITMENT TO TRANSFORMING OUR NATIONAL VISION INTO TANGIBLE RESULTS. WE ARE GRATEFUL TO ALL PARTIES, BOTH DOMESTIC AND INTERNATIONAL, WHO HAVE CONTRIBUTED TO THIS LANDMARK INITIATIVE.
YOUR SUPPORT AND DEDICATION HAVE HELPED TO BRING US TO THIS MOMENTOUS OCCASION.
Fatongia 'i Lototonga, tuku ke toe 'oatu pe 'a e fakamalō loto hounga, 'o fakafofonga atu 'a e pule'anga mo e Pangike Langa Fakalakalaka, 'a 'emau loto mafana mo fiefia he ha'elea 'Ena 'Afifio 'a e Tanupou 'o e Falealea fo'ou 'a Tonga.
THANK YOU
LEVELEVA E FAKAHOHA'A