𝐓𝐨𝐲𝐨𝐭𝐚 𝐚𝐧𝐝 𝐁𝐒𝐏 𝐝𝐨𝐧𝐚𝐭𝐞 𝐭𝐨𝐰𝐚𝐫𝐝𝐬 𝐫𝐞𝐜𝐨𝐯𝐞𝐫𝐲 𝐩𝐫𝐨𝐠𝐫𝐚𝐦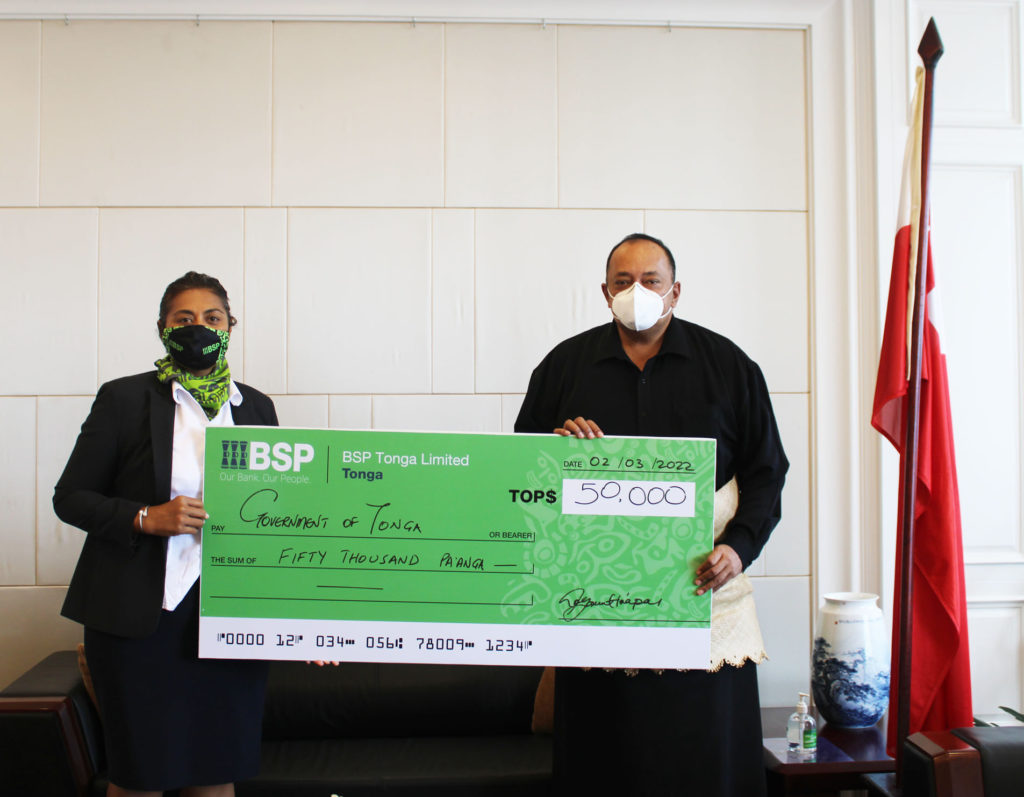 2 March 2022
Nuku'alofa – Prime Minister Honourable Hu'akavameiliku this morning received donations from Toyota and Bank South Pacific towards government's Hunga-Tonga-Hunga-Ha'apai volcanic eruptions and tsunami recovery program.
He extended government's gratefulness to both companies through their representatives at his office here in Nuku'alofa.Toyota Tsusho South Pacific Holdings Pty Ltd, the parent company for Toyota companies including Tonga, presented AUD$330,000 to UNICEF Australia to assist with water and sanitation activities and ongoing education and community outreach activities.
Tonga Asco Toyota chief executive officer Mr Tonga Uliuli Po'oi met with Hon Hu'akavameiliku to advise government on the donation through a letter from Mr Masahiro Kuwahara the company's Managing Director.
Bank South Pacific Tonga's country manager Marcellina Rose Wolfgramm Haapai presented the BSP Group's donation of TOP$50,000 to Hon Hu'akavameiliku, to support government in the reconstruction efforts for displaced communities such as Mango in Ha'apai.
This in addition to the bank's TOP$6000 received from BSP Fiji and BSP Vanuatu made to aid agencies here in Tonga and KINA$10,000 by the BSP Financial Group to Tonga fundraising efforts in Papua New Guinea.
The Hon Prime Minister, Hon Hu'akavameiliku has expressed his sincere gratitude to the Hon. Chairman of the BSP Bank Group, Sir Kostas G. Constantinou (OBE) and Mr Masahiro Kuwahara, Managing Director of Toyota Tsusho South Pacific Holdings Pty Ltd.
Government appreciates the assistance that will help meet some of the urgent needs of those badly affected by the January 15, 2022 events.